As introduced in Automatic Updating, Duplicate & Modify, and Extensibility, this article describes how to replace an existing data set in Displayr with an updated data set to have all of the outputs in your document updated automatically. Keep in mind that the new data set should contain all respondents that you want included in the report, so it may be necessary to Merge Files by Adding New Cases.
Requirements
A Displayr document with an imported data file in your Data Sets tree.
Method
1. Select the data set folder of the file you wish to update in your Data Sets tree.
2. Press the Update button in the object inspector on the right.
OR select Anything > Data > Data Set > Update at Step 1.
3. For most data sources, you will be presented with a Where is your data screen. Select the appropriate option to load your updated file.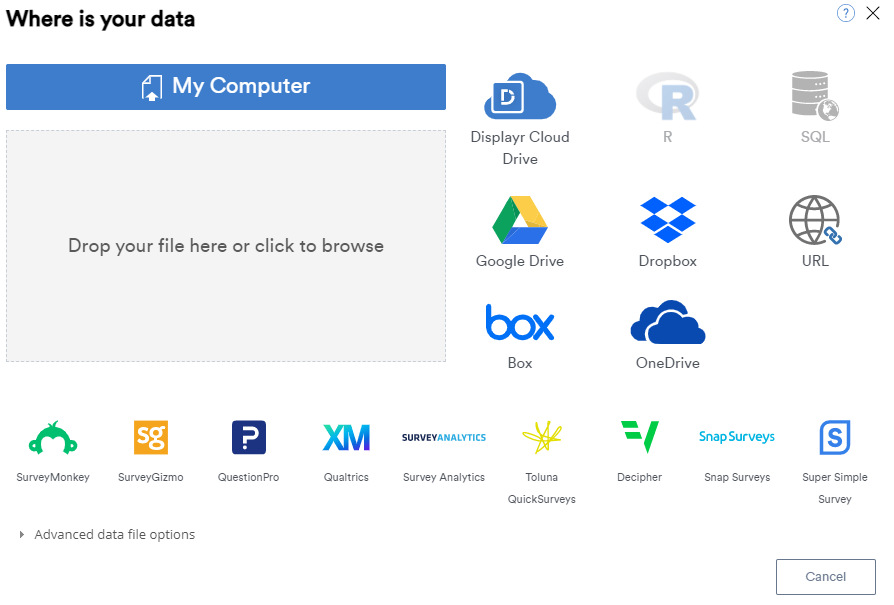 If you are using the same data source you can follow the same steps as when you first imported the data set. See below for details:
Note, it is possible to change the data source among the above options. For example, you can replace a data set imported from your computer with one saved as a URL by selecting URL, provided the data format is exactly the same. 
When selecting either of the below data source options, you will instead be taken directly to the code or query window:
In these cases, you simply need to press OK.
Next
How to Import Data into Displayr
How to Merge Data Sets with Different Cases/Records via the Displayr Cloud Drive