Introduction
This article describes how to merge files by case.
In this example, two files census_05_men and census_05_women.sav were merged. Variables with the black box in the first column came from the demographics file and those on the second column from the attitudes files. Both files have a common variable called ID.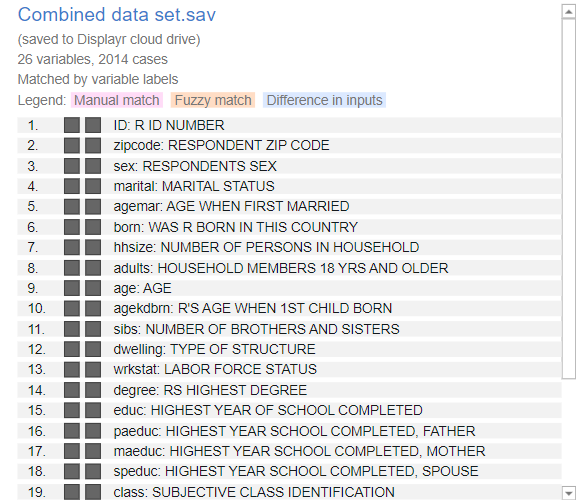 Requirements
A professional user license.
Files to be merged must be stored on the Displayr Cloud Drive
Files to be merged must be .sav files
Method
File name specification
Select Anything > Data > Data Set > Combine > by Case
In Inputs > Data sets, type the name of the first file in the Data set 1 box
In Inputs > Data sets, type the name of the second file in the Data set 2 box
Type the name of the merged data set in the Combined data set name box. By default, it will be called Combined data set.sav

For example:

Automatic variable matching
By default, the procedure uses Automatic Variable Matching.

If you want more control over the matching process, uncheck Automatically determine what to match and choose from the following list of options: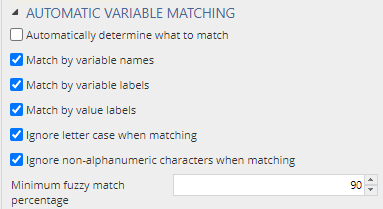 Variables
Specify the names of the variables that should or should not be combined. Also, the variables that should be manually included or omitted from the combined data set.
Names and Labels
When the labels or names for matching variables are not identical, you can either use the ones from the first data set or the last data set. Also, if there are multiple labels for the same value, you can either use the ones from the preferred data set or create new ones.
Automatic Updating
Use Automatic updating if you want the merge to refresh automatically after a specified time period.
Notes
You can review our technical documentation on the merge tool here.
See Also
How to Merge Files by Variable (Add New Variables)
How to Use the Displayr Cloud Drive