Introduction
This article describes how to go from a table containing hierarchical data...

...to a chart that shows this data either as a single funnel or pyramid.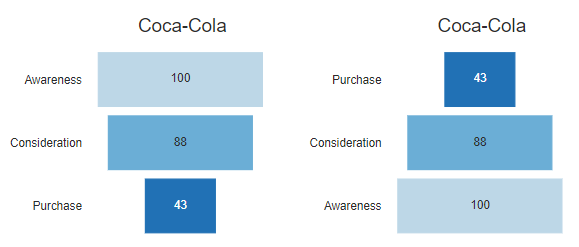 Requirements
You need a table that contains data in at least one column, where the data is arranged in hierarchical order with the largest number first and the smallest last (or vice versa).
Method
1. Go to Visualization > Bar > Funnel.
2. Under Inputs > DATA SOURCE > Output in 'Pages' select the table that contains the data.
3. OPTIONAL: Go to Chart > DATA SERIES > Color palette and select Blues, light to dark.
4. OPTIONAL: Go to Chart > DATA LABELS and select Show data labels.
If your data is sorted with the largest number in the first row, your output will be a funnel. If it's sorted with the smallest number in the first row, it'll be a pyramid. This can be swapped around by selecting Inputs > ROW MANIPULATIONS > Reverse rows.
If your table contains multiple columns and you want to make one chart for each column, then under Inputs > OUTPUT check the box Show as small multiples (panel chart):

See Also
How to Combine Variable Sets as a Grid
How to Create Top Two Category Variable(s) (Top 2 Boxes)