The Change Explorer is a tool creating a visual break-down of the change in a key metric between two periods of time. A common challenge with managing tracking studies is answering questions about why a key metric of interest, like Net Promoter Score or Satisfaction, has shifted between one wave and the next. Change Explorer allows you to interrogate the change in a metric by key subgroups in your data. For example, if the metric is down, did a particular subgroup, say Millenials, have a much lower score this quarter? Or, alternatively, has a particular subgroup that typically has a low score grown relative to the sample overall?
Examples
The follwing table shows the Net Promoter Score over time from a survey of mobile phone owners:

The second period shows a significant decline in the NPS. The Change Explorer can be used to visualize the contributions to this change in terms of key subgroups.
Requirements
A numeric outcome variable that you measure over time.
Method
In this example we will look at the change in the NPS in terms of four key variables from the survey:
Gender
Age
Main phone company
Population density, or whether the respondents live a large cities, small cities, towns, or small towns / rural areas.
Here are the steps:
Select Anything > Visualization > Exotic > Change Explorer Prototype
In the Outcome box, select the numeric variable you want to focus on.  
In the Date box, select a variable in Date format
In the Profiling variables box, select the variables you want to use to profile change in your outcome variable.

In the Contribution box, select the type you want to use.  The choices are: 

In this example, we will select Change in Average.
In the Output box, select either Bubble Chart or Table.

In this example, we will select Bubble Chart.
In the Specify periods box, select either Typing dates or Choosing from a Date control and specify the begining and ending date for each period. In this example, we typed the dates.

In the SIGNIFICANCE LEVELS box, specify the upper and lower z-Score threshold values you want to use to indicate the degree of increase/decrease in your metric of interest. You can also specify the Colors you want to use to identify the categories that showed significant increase or decrease over time, or no significant change at all.

Click Calculate.
The results are as follows: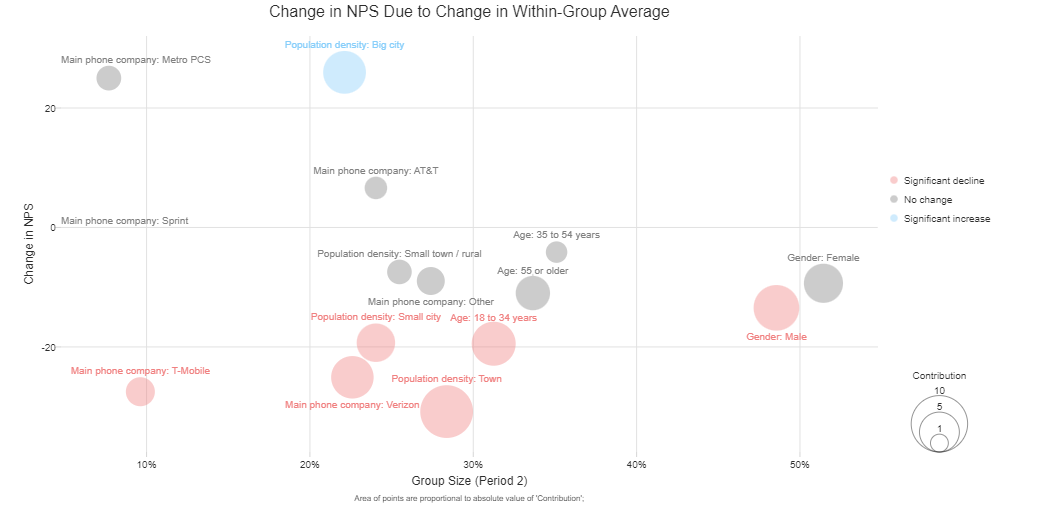 Hovering your mouse over each bubble will display the values for the group.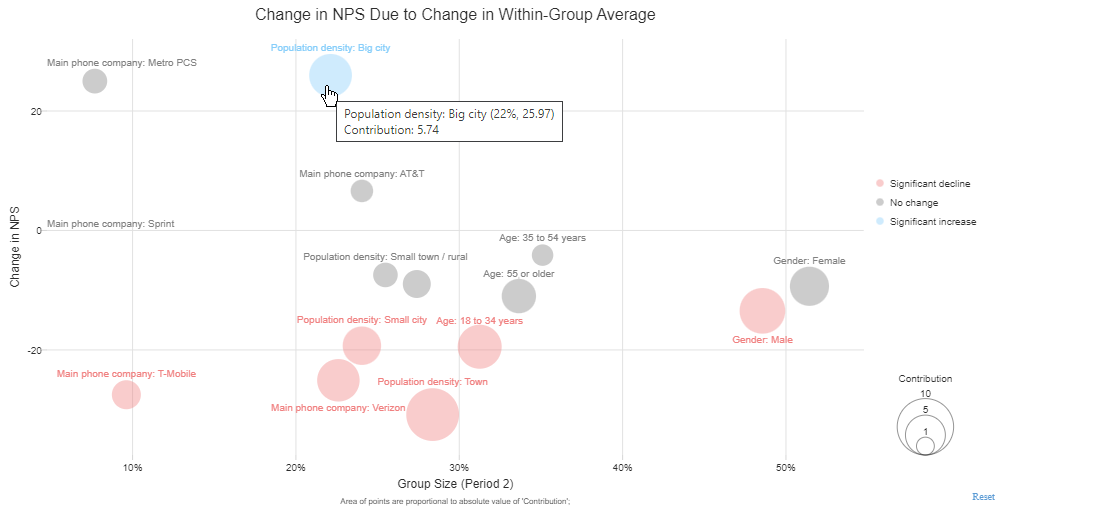 Next
How to Create a Time Series - Column with Trend Tests Chart
How to Create a Time Series - Small Multiples with Tests for Trends Chart