Introduction
This article describes how to create a stacked bar chart from an existing table like this:

To a chart like this: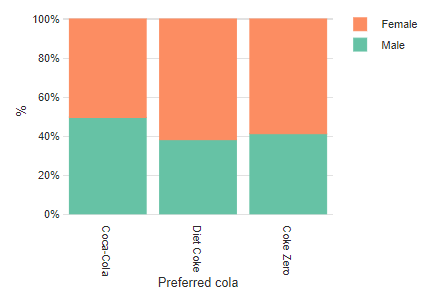 The same process can be used to create a bar chart where the total does not add up to 100%. For example, the below chart was created using the same data as above, but replacing the percentages with the count for each cell:

Requirements
A table with at least two columns and one row.
Method
1. Select Visualization > Bar > Stacked Bar.
2. Under Inputs > DATA SOURCE > Output in 'Pages' select the table that you want to base the chart on.
3. Under Inputs > OUTPUT check the box labeled Stack series.
4. OPTIONAL: Under Chart > DATA SERIES > Color palette change the palette to Colorblind safe colors.
5. Click Calculate and/or ensure that Automatic is checked.
See Also
How to Create a Bar Chart from a Variable
How to Create a Bar Chart from a Table
How to Create a Clustered Bar Chart
How to Create Several Bar Charts Using Small Multiples
How to Customize the Color of a Single Category in a Bar, Column, or Pyramid Visualization
How to Apply a Gradient Palette to a Bar, Column, or Pyramid Visualization