Introduction
This article describes how to create several column charts using small multiples (panel charts), starting with an existing table like this:
We will end up with several small column charts like this: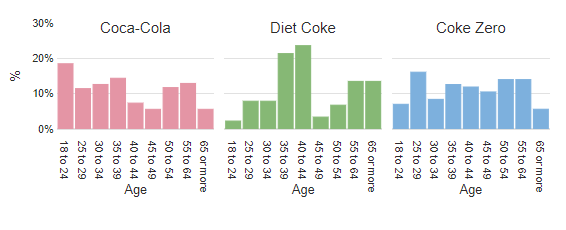 Requirements
A table with at least two columns and one row.
Method
1. Select Visualization > Column > Small Multiples Column.
2. Under Inputs > DATA SOURCE > Output in 'Pages' select the table that you want to base the chart on.
3. Under Chart > APPEARANCE change the value in Number of rows of panels to 1 (this will ensure the three charts end up next to each other. Setting this to 2 or higher would show the charts one above the other).
4. OPTIONAL: Under Chart > DATA SERIES > Color palette change the palette to Rainbow.
5. OPTIONAL: Change the Chart > VALUES (Y) AXIS > Maximum value to 0.3 to set the highest point on the Y-axis to 30%.
6. Click Calculate and/or ensure that Automatic is checked.
See Also
How to Create a Column Chart from a Variable
How to Create a Column Chart from a Table
How to Create a Clustered Column Chart
How to Create a Stacked Column Chart
How to Create Several Column Charts Using Small Multiples
How to Add a Line to a Column Chart (Second Y-axis)
How to Customize the Color of a Single Category in a Bar, Column, or Pyramid Visualization
How to Apply a Gradient Palette to a Bar, Column, or Pyramid Visualization