Introduction
This article describes how to create a new variable(s) that is standardized and will have an average of 0 for each respondent, will optionally have a standard deviation of 1 for each respondent. Please consider the data below: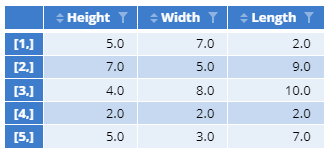 For each column/variable in the data, this QScript will subtract the mean of the column from each entry and then divide by the standard deviation of the column to yield the following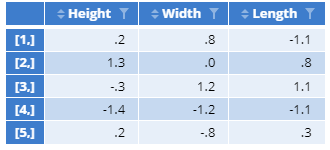 Requirements
A Displayr document that contains Numeric - Multi or Binary- Multi variable sets.
Method
To use this transformation:
Select one or more Numeric - Multi or Binary- Multi variable sets in the Data Sets tree.
Still in the Data Sets tree, hover where you want to insert the new variable, then click the + button to select Ready-Made new Variables > Scale Variable(s) > Standardize Within Variable.
OPTIONAL: If your document contains more than one data file you will be prompted to select the data file. Click OK.
Next, you will be asked to select the variable sets you want to transform, click OK.
For each selected variable set

, a new R question

containing the standardized data within the variable is created.
See Also
Scale Variable(s) to Standardize Within Case