This article describes how to create lots of small versions of a visualization as small multiples.  This is sometimes referred to as "Facet" or "Panel" charts.  Starting with a multi-series table, like this example that shows brand personality associations with soft drinks:

We'll turn this into a single output with lots of small charts - one for each brand, like this: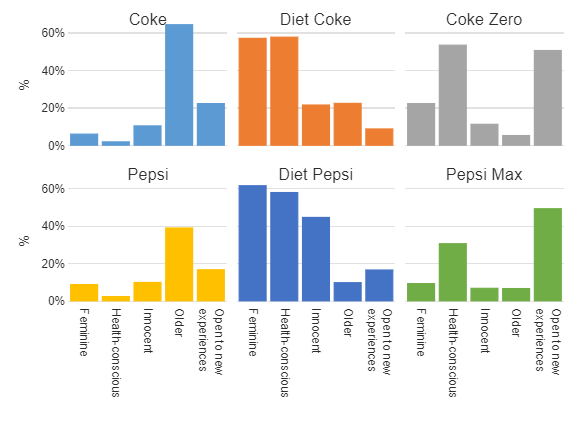 This functionality is available for Area Charts, Bar Charts, Bubble Charts, Column Charts (as in the example here), Geographic Maps, Line Charts, Radar Charts, and Scatter Plots.
Requirements
A table that has more than one column (series) to chart.
Method
1. Go to Visualization > Column > Small Multiples Column (or any of the specific types listed below).
2. Under Inputs > DATA SOURCE > Output in 'Pages' select the table that you want to chart.
3. OR under Inputs > DATA SOURCE > Variables in 'Data' select the variables you want to chart.
Notes
| | |
| --- | --- |
| Example | Path within the Visualization menu |
| | Area > Small Multiples Area |
| | Bar > Small Multiples Bar |
| | Bubble > Small Multiples Bubble |
| | Geographic Map > Small Multiples Geographic Map |
| | Line > Small Multiples Line |
| | Radar > Small Multiples Radar |
| | Scatter > Small Multiples Scatter |
See Also
How to Create a Bar Chart from a Table
How to Create a Column Chart from a Table
How to Create a Geographic Map