When exporting to Excel, Displayr will generate an .xlsx file containing any tabular data from the pages that you have chosen to export. The Excel export only exports tabular data and does not export charts. If you export a Visualization, the data which has been used to draw the visualization will be exported as a table where possible.
This article describes how to go export a Displayr output...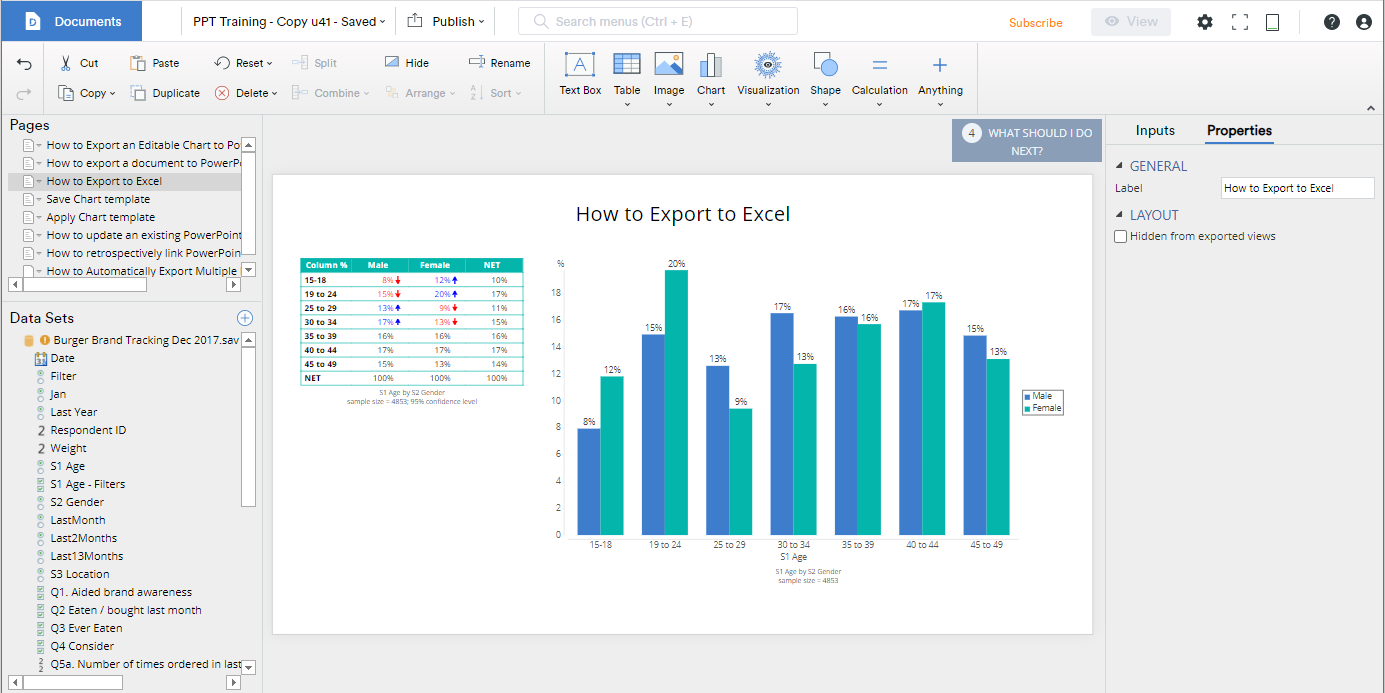 into Excel: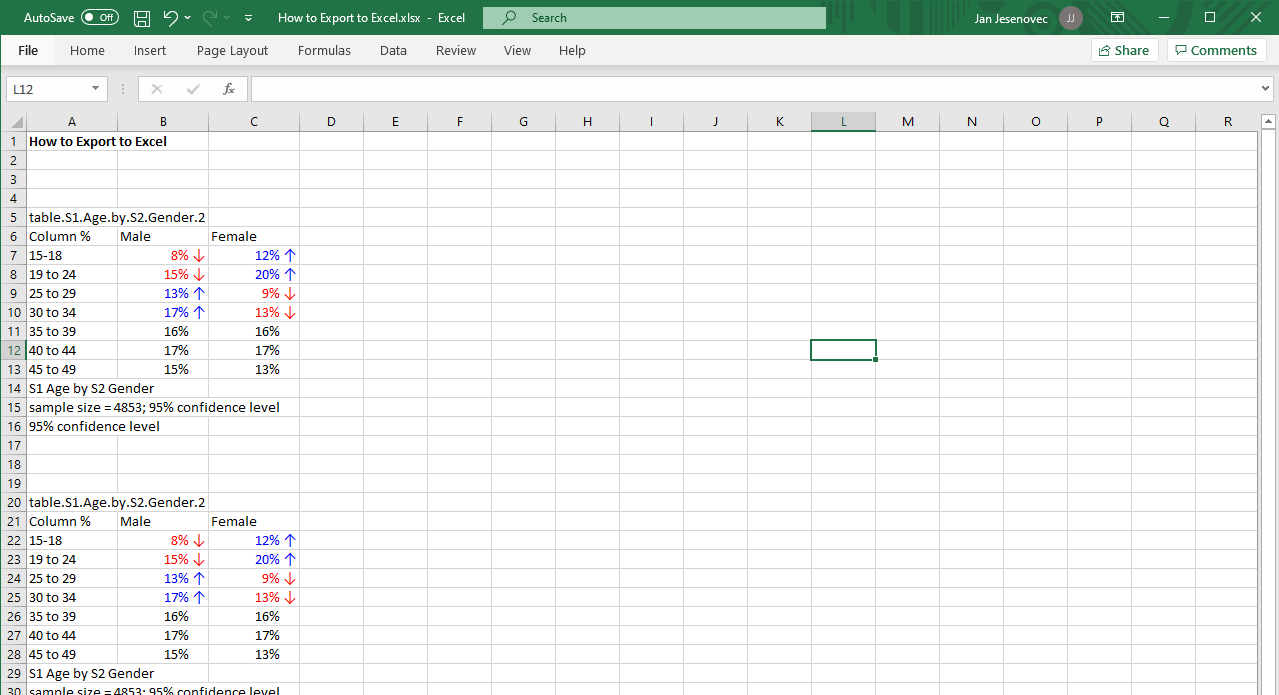 Requirements
A Displayr page with at least one output to export.
Method
Select the page(s) to export. 
Select Publish > Export  Pages > Excel.
To export selected pages only: Choose which pages to export > Export selected page(s).
OPTIONAL: Expand the Advanced Options menu and pick amongst the range of available options and specify how you wish to arrange your exported tables. See below for details of each option. 

Select Export.
Choose how to export pages: this allows you to specify whether Displayr should Create one Worksheet for each page, or Combine all pages onto a single worksheet.
Choose an Excel table style: this allows you to specify one of the default Microsoft table coloring styles. To change the table style select the desired format from the dropdown menu list. 
Choose the spacing between tables on the same Excel worksheet: specify the Number of rows between the bottom of one table and the top of the next, or the Number of rows between the tops of the table (fixed table spacing). To specify the spacing select the preferred option and input the desired number of rows. 
Ignore NET and SUM: choose to prevent NET and SUM rows/columns from being included in the export.
Include table of contents: choose whether or not Displayr generates an additional Excel sheet at the beginning of the Excel export which provides links to the different tables within the export. Click the links to jump to the desired table within the Excel file. 
Repeat headings: if your export contains tables with the column headers for each table, you can select this option to repeat the headings, or you may choose to suppress the headers on subsequent tables by deselecting this option. 
Include significance arrows (when shown in the table): choose whether or not the blue/red significance testing arrows are included in the Excel document.
Show column comparisons in separate row (when shown in the table): if you are using the Compare Columns option for significance testing. If selected the significance testing letters will be added as new rows in the Excel output. If unchecked, the letters will be added as text within the main cells of the table.
Next
How to Export a Document to PowerPoint
How to Publish a Document as a Web Page (Dashboard)
How to Update an Existing PowerPoint Document
How to Retrospectively Link PowerPoint Tables and Charts to Displayr Outputs
How to Upload a PowerPoint Chart Design Template to Displayr
How to Create and Apply a Chart Template in Displayr
How to Apply a PowerPoint Chart Style to a Chart in Displayr