Introduction
This article describes how to go from a single-column table (or a single categorical variable) like this...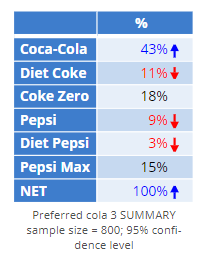 ...to a Donut Chart, like this: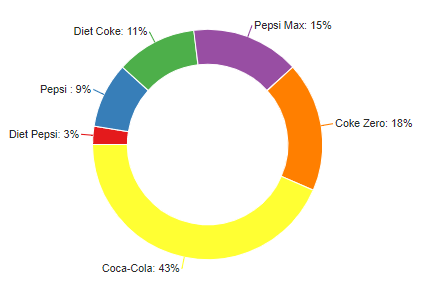 Requirements
A data table consisting of at least one column, or a single variable containing categorical data.
Method
Go to Visualization > Pies > Donut.
Under Inputs > DATA SOURCE > Output in 'Pages' select the table you want to display as a Donut Chart.
If instead of a table you wish to use a variable, under Inputs > DATA SOURCE > Variables in 'Data' select the variable from the drop-down menu. Alternatively, you can drag and drop the variable into the menu itself from the Data Set tree.
OPTIONAL: If your input table contains more than one column, go to Inputs > COLUMN MANIPULATIONS > Columns to show and specify which column you would like to display.
OPTIONAL: Under Inputs > ROW MANIPULATIONS select Sort rows.
OPTIONAL: Under Chart > DATA SERIES > Color palette select Strong colors.
See Also