This article describes how to create multiple banner outputs at once or in batch form.

This is similar to How to Create Lots of Crosstabs, except it allows you to place multiple variable sets side by side as banners in the table columns.
Requirements
A Displayr document and data set.
Method
Go to any of the following menu options:

Anything > Page Design > Page > Report > Banner Tables
Anything > Report > Banner Tables
Table > Report > Banner Tables

Select the variable(s) you would like to appear in the rows. You can select multiple variables by holding down the "ctrl" or "shift" key.
Select the variable(s) you would like to appear in the banner as columns. You can select multiple variables by holding down the "ctrl" or "shift" key.
Any Nominal - Multi

,

Binary - Grid

and

Numeric - Grid

variable sets will be copied and

flattened

before using them in the rows of a table. The

flattened copy will contain all of the cells from the original question in a single row. Note, only Nominal, Binary - Multi and Binary - Multi (Compact) variable sets can be used in the banner.
A new folder will appear in the Pages tree with the banner outputs: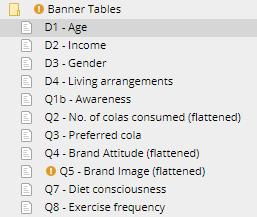 Next
Creating Summary Tables and Crosstabs