Displayr now has an updated, simplified Visualization Selector. More and more R-based visualizations support significance tests and they are faster and easier to customize. Captions are coming to R-based visualizations, and Rules will also soon be available to apply to Calculations that create tables, and eventually to visualizations directly.
As a result, visualizations "with Tests" ( e.g. Bar Chart with Tests, Stacked Bar with Tests, etc.) will become less relevant and create unnecessary duplication. In preparation for these changes and to simplify the Visualization Selector, the "with Tests" versions are now hidden by default from the visualization selector in Edit mode. To see these legacy visualizations, check the Show legacy visualizations box in the Visualization Selector.
After you check the Show legacy visualizations box, your web browser will remember your selection the next time you visit Displayr. The legacy visualizations will still appear in searches when using the Search boxes in the Visualization Selector and at the top of the page.
The following legacy charts will still be visible as they don't yet have any R-based counterparts:
Method
For example, to create a Bar with Tests legacy visualization:
Create a table with the data you want to visualize


In the Object Inspector, select Visualization > Bar


Check the Show legacy visualization box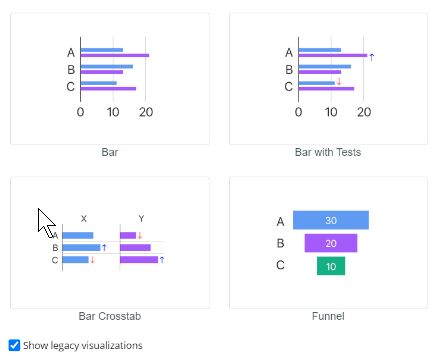 Select Bar with Tests




Next
How to Add Significance Tests and Other Annotations to Visualizations