This article describes how to go from tables that show all data...

...to tables that only show data for the last 2 periods, for example:

Requirements
A data set that includes a Nominal (also known as categorical) wave variable. In this example, we have a variable called Wave that tells us what quarter the survey was completed. Waves must be in ascending order when shown in a table, like: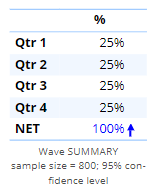 Instructions for how to convert date/time variables to nominal variables can be found here: How to Create a Categorical Variable from a Date/Time Variable.
Method
1. Select your data set in the Data Sets tree.
2. In the Data Sets tree, hover over any variable and click the Plus (+) then select Custom Code > R - Numeric.
3. Paste the below under Properties > R CODE in the object inspector:
unique.waves = levels(Wave) #Get wave categories
last.two.waves = unique.waves[(length(unique.waves)-1):length(unique.waves)] #Find last 2 waves
Wave %in% last.two.waves
The above code gets the levels or categories from the Wave variable. You will need to replace Wave with the Name of your nominal wave variable.
It then identifies the last 2 wave categories. Note, this code assumes the waves are in the correct order.
Finally, we return TRUE or FALSE based on whether the data matches these 2 wave categories.
4. Tick Usable as a filter.
5. Give the filter a Name and Label.
6. OPTIONAL: Update the Structure to Nominal or Ordinal.
7. Select the relevant outputs and apply this filter via Inputs > FILTERS & WEIGHT > Filter(s) in the object inspector.
Next
How to Create a Custom Numeric R Variable
How to Build Tables that Automatically Filter to the Latest Periods
How to Create a Categorical Variable from a Date/Time Variable