Introduction
Whereas traditional correspondence analysis analyzes a table, multiple correspondence analysis analyzes the variables themselves; for example, a multi-response question with 11 categories is analyzed as 11 categorical variables. It is essentially a form of factor analysis for categorical data. You should use it when you want a general understanding of how categorical variables are related. This article describes how to run a Multiple Correspondence Analysis in Displayr.


Requirements
Multiple categorical variables to use as inputs to the Multiple Correspondence Analysis. As an example, we'll use 5 different variables from a political survey: voting in the 2008 and 2012 US elections, approval of President Trump, age, and gender.


Method
1. From the toolbar menu, select Anything > Advanced Analysis > Dimension Reduction > Multiple Correspondence Analysis.
2. Select the categorical variable inputs from the Input Variables drop-down list in the object inspector on the right.
3. Click the Calculate button to generate the output.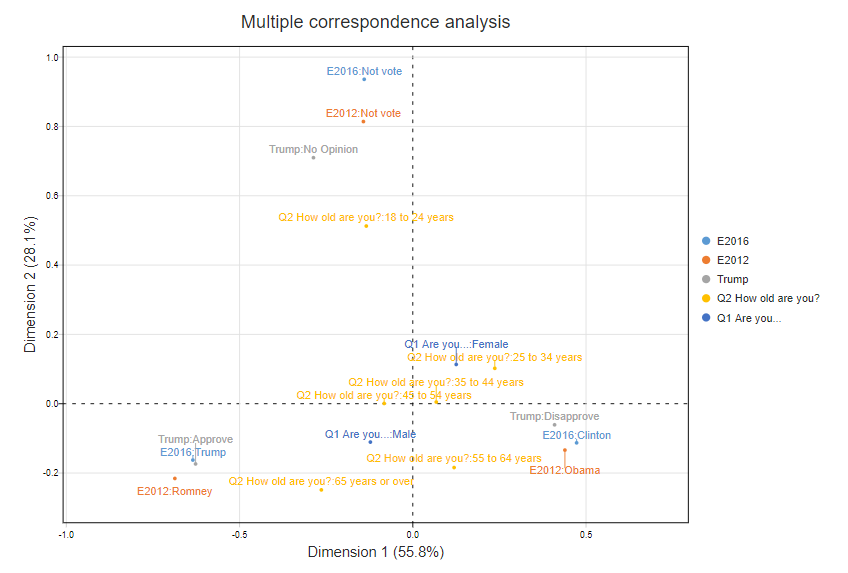 See Also
How to do Traditional Correspondence Analysis
How to Add Images to a Correspondence Analysis Map
How to do Correspondence Analysis of a Square Table
How to Create a Quality Table from a Correspondence Analysis
How to do 3D Correspondence Analysis