This article describes how to go from a standard table...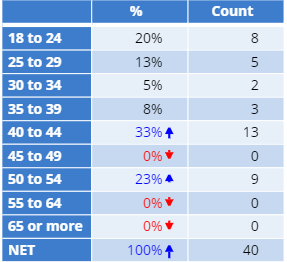 ...to an output message that hides the table if any of the questions have less than the specified number of observations:

Requirements
Method
Select your table.
Go to Properties > RULES on the object inspector.
To apply the rule, select the Plus (+) > Modify Whole Table or Plot > Avoid Showing Outputs with Small Sample Sizes.
Specify the Minimum Sample Size.
Press OK.
Next
How to Hide an Output with a Small Sample Size Using an R Error
How to Hide an Output with a Small Sample Size Using a Calculation
How to Blank Table Cells with Small Sample Sizes