Whenever a statistical test concludes that a relationship is significant, when, in reality, there is no relationship, a false discovery has been made. When multiple tests are conducted this leads to a problem known as the multiple testing problem (also known as the multiple comparisons problem, or the post hoc testing problem, data dredging, and sometimes, data mining), whereby the more tests that are conducted, the more false discoveries that are made.
The multiple comparison problem is more likely to arise in situations where there are many comparisons (tests) run in a single table, such as tracking surveys with tables that include many individual waves of data. If the significance testing results in a table change after adding a new wave of data, or the results in the table differ from what you expect, examine the multiple comparison correction approach you use and determine if it's appropriate for your analysis.
Multiple comparison corrections attempt to fix the false discovery problem. The basic way that they work is that they require results to have smaller p-Values in order to be classified as significant.
This article describes how to go from a table showing significant differences at a 95% confidence level: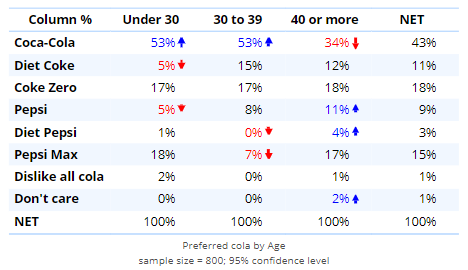 To a table showing significant differences at a 95% confidence level AND with false discovery rate correction applied: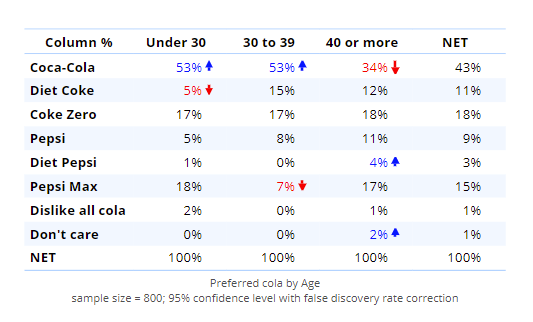 Requirements
A document containing a table showing significant differences.
Method
To apply multiple comparison correction to Exception Tests:
1. Select the table in your document.
2. From the Object Inspector, select Properties > Significance > Advanced
3. Select the Significance levels tab.
4. In the Show significance drop-down box, select Arrows, Font colors, or Arrows and Font colors.
5. Select the Exception Tests.
6. From the Multiple comparison correction menu, select False Discovery Rate (FDR)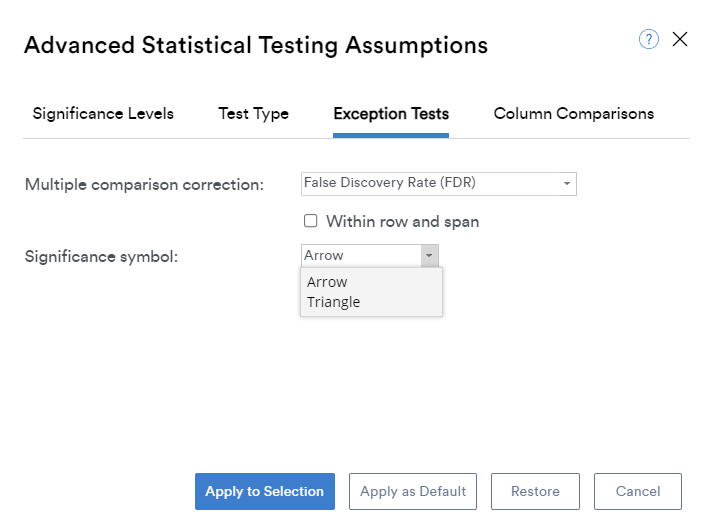 7. [OPTIONAL] If you only want the correction to correct based on the number of cells within a span, check Within row and span. Otherwise, the correction will be made based on the number of cells in the entire table. This is most relevant when doing stat testing on BANNERS.
8. From the Significance symbol menu, select the symbol (Arrow or Triangle) you want to show significance. In this example, we will select Triangle. The default is Arrow.
9. Select Apply to Selection to apply it to just this table or Apply as Default to make it the default for all crosstabs with date variables in the document.
The results are as follows: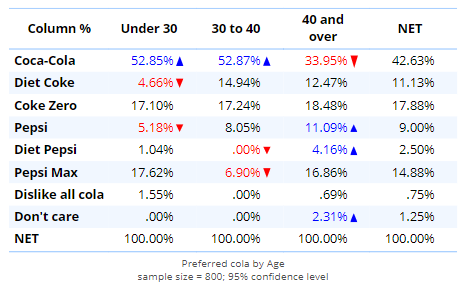 Restore to Document settings
If you want to revert the table to the Document settings:
Click the Restore button


Note: The Restore button will only be enabled when settings for the selected item(s) are different from the document settings (settings saved by Apply as Default). The Restore button will be disabled if you did not save any settings for the selected item(s).
Next
How to Apply Significance Testing in Displayr
How to Set the Default Type of Significance Test
How to Compare Significant Differences Between Columns
How to Conduct Significance Tests by Comparing to Previous Time Periods
How to Change the Confidence Level at which Significant Differences are Displayed