Introduction
This article describes how to go from a standard table in Displayr showing no significant differences: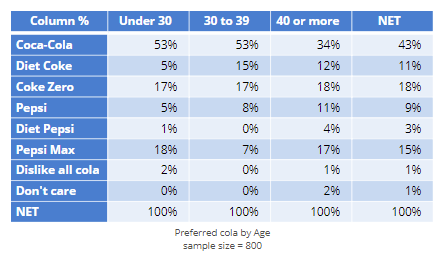 To a table that shows cell comparison significant differences: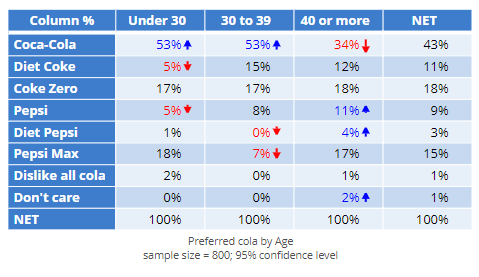 Requirements
A document containing a table which is cross-tabbed by a variable so that each column represents a different category.
Method
1. Select your table. For this example, we're using a table showing cola brand preference by age group.
2. From the toolbar menu, select Appearance > Highlight Results > Arrows and Font Colors. You can also select Arrows OR Font colors individually if you instead prefer to show one or the other.
Note that Arrows and Font colors is the default selection for a table in Displayr. For information on how to interpret arrows and font colors, see here.
See Also
How to Set the Default Significance Testing
How to How to Compare Significant Differences Between Columns
How to Conduct Significance Tests by Comparing to Previous Time Periods
How to Change the Confidence Level at which Significant Differences are Displayed
How to Apply Multiple Comparison Correction to Significance Tests