Introduction
Square tables are data tables where the rows and columns have the same labels. These types of tables are also known as switching matrices, transition tables, and confusion matrices. They can all be analyzed using correspondence analysis, but there is a (small) benefit in using a special variant of correspondence analysis designed for such square tables. This article describes how go from a square table:




To a correspondence analysis output of the square table: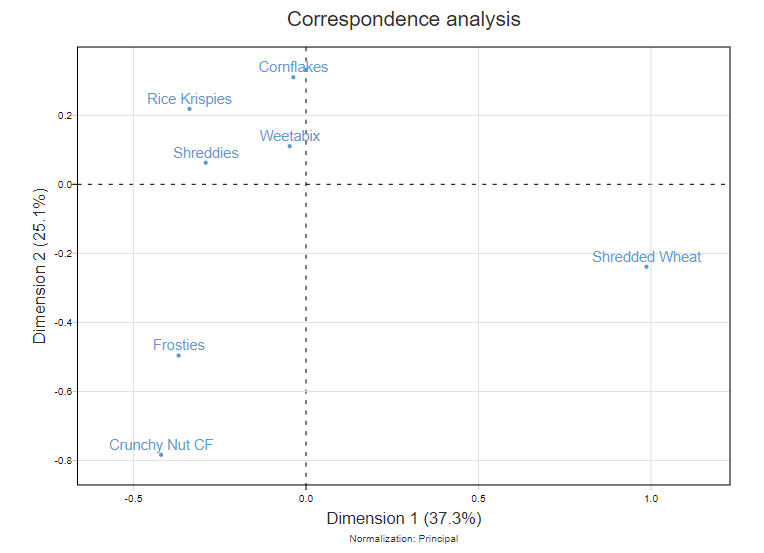 Requirements
A square table output which has the same number of rows as columns with identical labels in both the rows and columns which and presented in the same order. For our cereal example above, the rows represent the first brand purchased while the columns represent the second brand purchased.
Method
1. Create an output of your square table. For our example, the data was entered using Table > Paste or Enter Data, but you can also create a crosstab from the existing variables in your dataset.
2. From the toolbar menu, select Anything > Advanced Analysis > Dimension Reduction > Correspondence Analysis of a Square Table.
3. From the object inspector on the right, select your square table from the Input table drop-down.
4. OPTIONAL: Change the Output to show a bubble chart instead of of a scatterplot. When bubble chart is select, you have the option of selecting an additional variable to represent the Bubble sizes.
5. Click the Calculate button to generate the correspondence analysis output.
See Also
How to do Traditional Correspondence Analysis
How to Add Images to a Correspondence Analysis Map
How to Create a Quality Table from a Correspondence Analysis
How to do Multiple Correspondence Analysis
How to do 3D Correspondence Analysis