Introduction
This article describes how to take a Choice Based Conjoint (CBC) experimental design created in Displayr: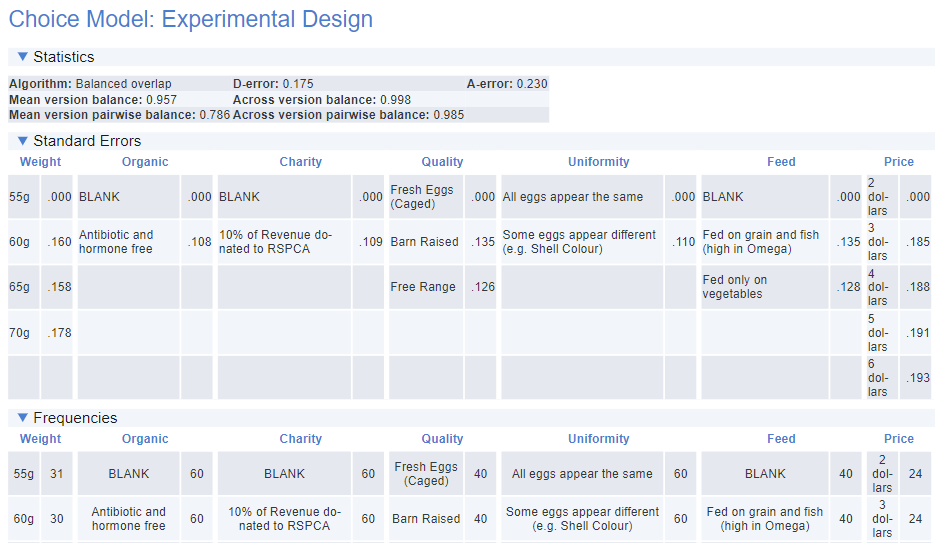 And export the design to Qualtrics and automatically create the choice questions: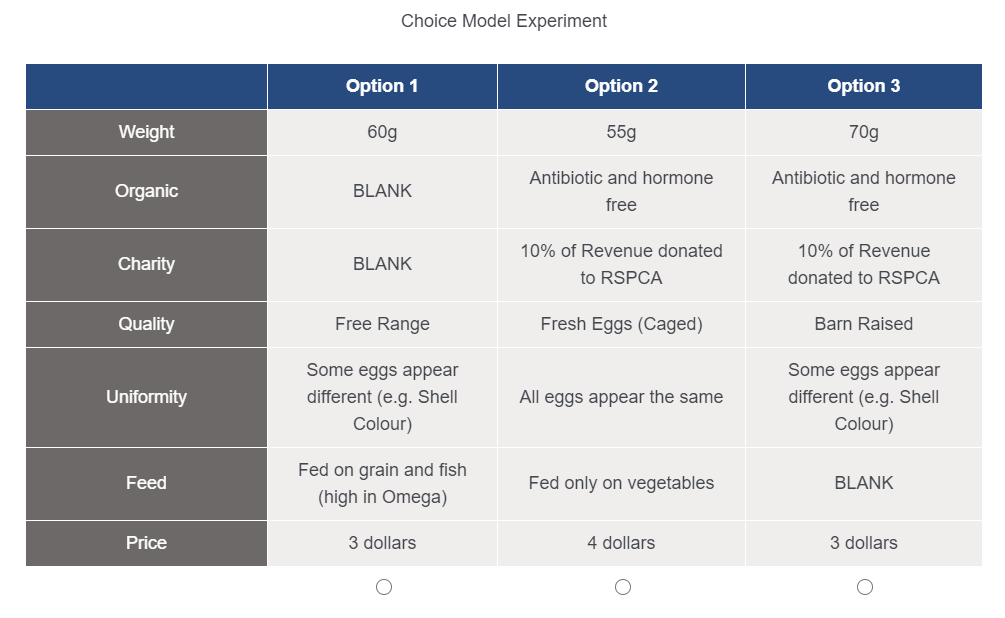 Requirements
A Choice Based Conjoint experimental design created in Displayr.
A Qualtrics account with appropriate permission to access the necessary API credentials.
Method
You'll need to first get some information from your Qualtrics account, most importantly the API token along with some other information. You can then use that information to create an output in Displayr which will import the design into Qualtrics.
1. Log in to your Qualtrics account.
2. Select the account icon in the top right corner and select Account Settings.
3. From the tabs at the top, select Qualtrics IDs.


4. Copy the Token value listed under API and paste it somewhere for later use.

5. Make note of the Organization ID in the User section as well.
6. Get the Datacenter ID by looking at the URL in the browser: the first part of the URL after the protocol is our Organization ID followed by the Datacenter ID. In the below image, the Datacenter ID is "au1".





7. Open your Displayr document containing your CBC design.
8. From the toolbar menu, select Anything > Advanced Analysis > Choice Modeling > Export Design to Qualtrics.
9. From the object inspector on the right, provide the required inputs:
Choice experimental design output - select the Choice Model design output.
Choice question text - Enter the text to display for the choice questions in the survey.
Qualtrics survey name - enter the name that you want to use for the survey.
Qualtrics API key - enter the API token from from Qualtrics.
Qualtrics datacenter ID - enter the Datacenter ID from Qualtrics.
Qualtrics organization ID - the Organization ID from Qualtrics.
URL for existing QSF file (OPTIONAL) - can be used to add the design to an existing Qualtrics survey.
10. Click the Calculate button to export the design.
If all inputs were provided correctly, the output will display the following message:

You can view the survey in Qualtrics account and verify that the design was imported and the choice model questions were created.
See Also
How to Do Choice Modeling in Displayr
How to Create an Experimental Design for Conjoint Analysis
How to Preview a Choice Model Questionnaire
How to Compare Discrete Choice Models
How to Create a Choice Model Utilities Plot
How to Save Utilities from a Choice Model
How to Save Class Membership from a Choice Model
How to Create a Choice Model Simulator
How to Create a Choice Model Optimizer