When creating outputs in Explore mode, you can create and apply filters to the selected output(s). This article describes how to create simple filters in Explore mode, and how to apply them to tables and chart.
As an example, I will change the following table...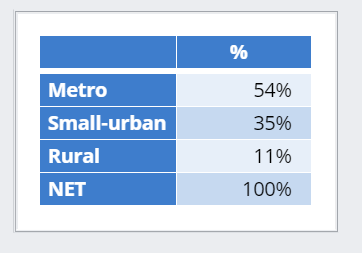 ...to a table filtered to show respondents from Rural and Metro areas only: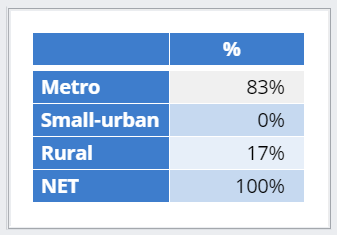 Requirements
Method - creating a filter
From the header strip in a published document, click on Explore > Create Table.
A table will automatically be created using the first question available in the Questions dropdown.
Create a table selecting the question or questions that you wish to create the filter from.
Select the cell or cells (to select multiple cells select one cell and hold down Ctrl or Shift keys to select additional cells). Note, you must select the statistics cells, i.e., the % or n, rather than the row names.
Select Create Filter from the menu on the right side of the screen. Displayr will create and apply a filter to the table.
Select or deselect the filter(s) you wish to apply to any subsequent tables/charts.

Next