This article describes how to add an average...
...of specified rows to a table: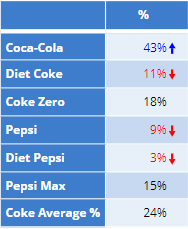 Requirements
A categorical table. In this example, we are averaging the Coke brand row percentages and creating a new row called Coke Average %.
Method
1. Select your table.
2. Go to Properties > RULES on the object inspector.
3. Click the Plus (+) button.
4. Click New custom rule (write your own JavaScript) > Edit JavaScript.
5. Paste the below into the dialog:
includeWeb("JavaScript Array Functions");
form.setHeading('Creates an Average % of Specified Rows');
form.setSummary('Creates an Average % of Specified Rows');
// Get the list of statistics on the table.
var statistics = table.statistics;
// What is the last row in this span?
var last_row = table.numberRows - 1;
// Add a new Average row.
var row_name = "Coke Average %";
table.insertRowAfter(last_row, row_name);

// Remember the index of the new Average row.
var average_row = last_row + 1;

// Specify labels and statistic to use
var specified_labels = ["Coca-Cola", "Diet Coke", "Coke Zero"];
var statistic = "%";

// Check for duplicates in row labels / entered labels
var row_labels = table.rowLabels;
var dupe_check1 = arrayHasDuplicateElements(specified_labels); 
var dupe_check2 = arrayHasDuplicateElements(row_labels);
if (dupe_check1)
  form.ruleNotApplicable('the specified row labels have duplicates');
if (dupe_check2)
  form.ruleNotApplicable('the table has duplicate row labels');

// For each row, sum its statistics.

// For each column...
for (var column = 0; column < table.numberColumns; column++) {
 // For each statistic in the table...
 for (var stat = 0; stat < statistics.length; stat++) {
   var values = table.get(statistic);
   var sum = 0;
   var count = 0;

 for (var row = 0; row < last_row+1; row++) {
  if (specified_labels.indexOf(row_labels[row]) > -1) {
   sum += values[row][column];
   count++;
  }
 }
 // Store the average in the new Average row.
 values[average_row][column] = sum / count;

 // Store the values of the Average row into the table.
 table.set(statistics[stat], values);
 } 
}
We first define the labels of the rows we wish to sum and the statistic to use.
A validation check for rows with duplicate labels is performed.
We use the insertRowAfter function to add the new row to the very end of the table.
We then loop through each column and sum the values of any rows with the specified labels.
Finally, we use table.set to set the values for the new row.
6. OPTIONAL: Change specified_labels to include the table row labels you wish to use in the calculation.
7. OPTIONAL: Change statistic to the table statistic you wish to use in the calculation.
8. OPTIONAL: Change row_name to the name of the row that will store the average calculation.
9. Press the blue Play button > OK > OK.
See Also
How to Access Statistics from a Table in a Rule
How to Create a Custom Statistic or Calculation via a Rule