This article describes how to combine/merge two or more variables with the same structure into a single variable set. 
Requirements
Familiarity with the Structure and Value Attributes of Variable Sets.
Two or more variables with the same structure that you want to combine into a single variable set. 
Method
1. From the Data Sets tree, select the individual variables that you want to combine by holding down your Ctrl key and selecting each variable. In this example, we've selected a series of brand attitude questions each setup as Nominal: Mutually exclusive categories and each containing the same preference scale.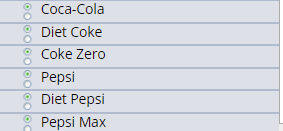 2. From the toolbar menu, select Combine > As Variable Set > Do Not Merge Variables.  If you've already used any of the variables to create tables/outputs in your document, you'll be to choose one of the following options:
Change data in all tables and charts - updates existing tables and charts based on new variable structure. 
Make a copy so existing tables and charts are not affected - which creates a copy of the variables which leaves existing tables and charts unchanged. 
A new combined variable set is created. Displayr will automatically work out the appropriate variable set structure based on the input variables. In the example, above, since we using nominal variables as inputs, Displayr creates a variable set with the structure Nominal - Multi: Grid with unordered categories.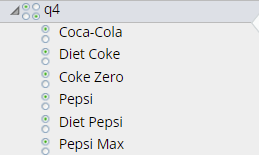 3. OPTIONAL: To rename, right-click on the variable set name (q4 in the above example) and select Rename. 
Next
How to Combine Variable Sets as a Grid