Introduction
This article describes how to create stand-alone footers and customize them.
A standard footer output is included when creating charts and tables which can be manually edited: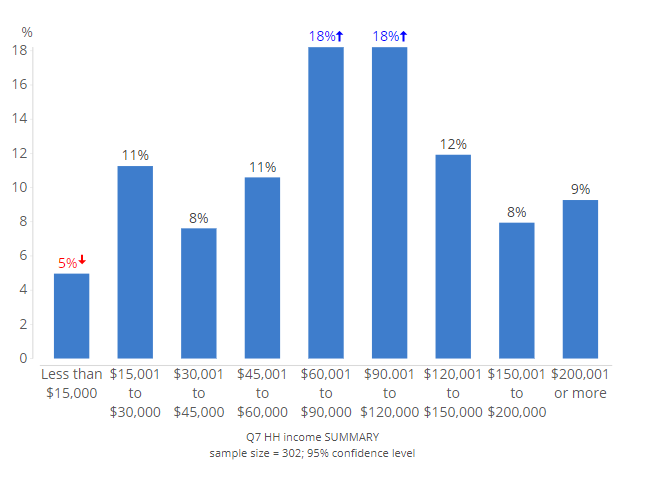 However, you can create a stand-alone footer that can be further customized and allow for:
The footer text remains customized if the underlying data is updated (ex, custom base size description).
The footer text will update automatically if the underlying data is updated or filters are applied, as opposed to manually typing "Base is 300" in a standard footer, which will not update automatically, even if the base size changes.
More screen real estate by removing repeated footers if you have multiple charts on a page.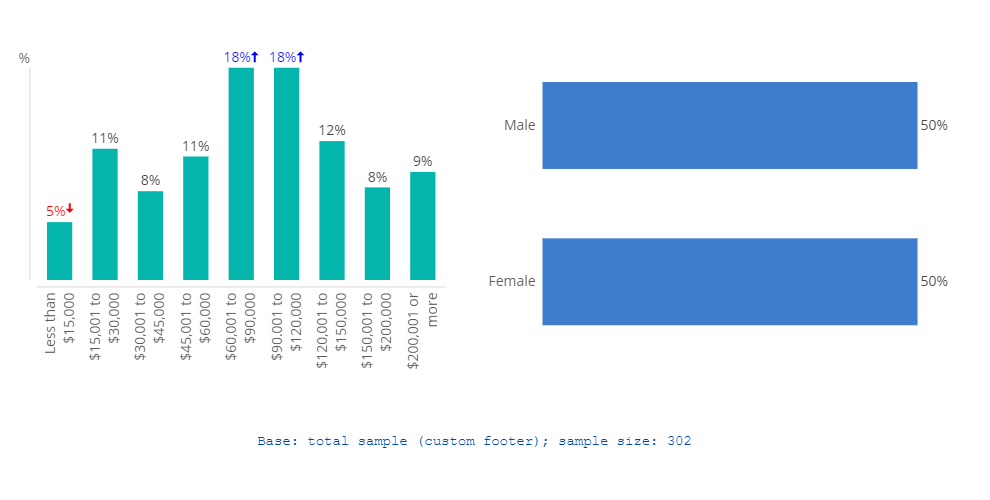 Requirements
You will need:
At least one visualization, chart, or table on your page.

A Complete Data Variable. This needs to be a variable which has missing values for any observations that are not in the sample that you are describing.

If you want to report the sample size for the entire data set, an ID variable is a good idea.

In some cases, you may need to construct a variable which has the correct cases for the Complete Data Variable. You can read more about how to construct a Complete Data Variable here.
Method
From the toolbar, click Anything > Page Design > Sample Size Description.
In the Complete data variable field (shown in the object inspector) select a variable. Whatever variable is selected will be used to compute the sample size, based on all responses without missing values.

You will then get an output showing "Base: total sample; sample size: nnn". OPTIONAL: You can customize the wording and the formatting from the object inspector in the Initial text, Total sample description, Sample size description, and Final text fields.

Tick Automatic, if not already ticked. This ensures that whenever the data changes, including applying a filter, the sample size description will update accordingly.
OPTIONAL: To change the appearance of the text that is displayed:

Click on the sample size description widget.
Go to Properties > APPEARANCE in the Object Inspector and update the background and/or font color, font size, font style, and add a border as desired.
See Also
How to Create a Complete Data Variable