Introduction
This article describes how to use raw text data: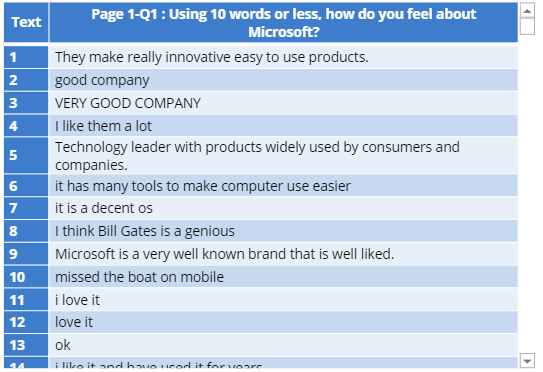 To calculate an overall sentiment score:

or to use sentiment scores in further analysis, such as crosstabs: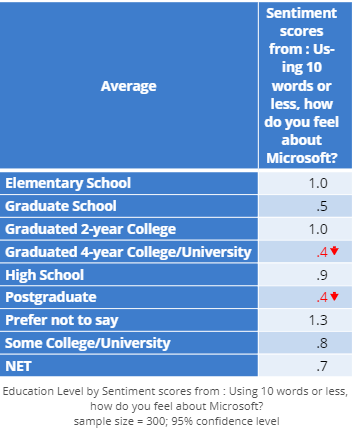 Requirements
You will need a Text variable in order to perform text analysis and word cloud creation. Text variables are represented by a small a next to the variable in the Data Sets tree:
Method
Select your text variable from the Data Sets tree.
Go to Anything > Advanced Analysis > Text Analysis > Sentiment.
A new variable with a Numeric structure will appear in your Data Sets tree that represents the sentiment score.
You can use this new variable in a variety of ways:
In cross-tabulations with other questions to see how the sentiment score may vary for different groups within the sample.
Looking at correlations of sentiment scores with other numeric variables (eg, use Correlation Matrix).
You could also turn the numeric sentiment score variable into a nominal variable to divide your sample into those who are positive (score of 1 or higher), neutral (score of 0), and negative (score of -1 or less) on the topic.
OPTIONAL:
In some cases, you might like to "clean" your raw text variable before computing the sentiment scores. This is where the Text Analysis Setup feature can help. In Displayr it is found under Anything > Advanced Analysis > Text Analysis > Advanced > Setup Text Analysis. This creates an R output on the page where the raw text is processed for spell-checking, stemming, removal of words, replacement of specific words, and combination of words into phrases. To calculate the sentiment scores from the Text Analysis Setup, simply select the Text Analysis Setup output on the page, and then Anything > Advanced Analysis > Text Analysis > Sentiment from the toolbar.