This article describes how to go from a standard scatter plot...
...to a scatter plot with logos representing the data labels:
Requirements
You will need:
Images of logos that are stored online with a URL
Method
Select a scatter plot on a Page.
From the object inspector, go to Chart > APPEARANCE > Show labels > On chart.
In Chart > APPEARANCE > Logos, paste in the URLs where your logo images are stored. The URLs must be separated by a comma and in the exact order of your input rows used to create the original scatter plot. For example, I used the following table to construct the scatter plot, and I will paste in the URLs in the following order: Coca.Cola, V, Red.Bull, Lift.Plus, Diet.Coke, Fanta, Lift, Pepsi.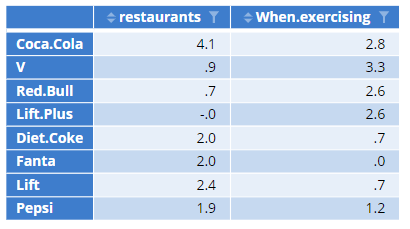 OPTIONAL: you can scale logos can be scaled with the Logo size parameter.
NOTE: Logos are only suitable for plots with a low number of points. Otherwise, the plot becomes too busy and confusing.
Next
How to Add Images to a Correspondence Analysis Map