Requirements
Familiarity with the Structure and Value Attributes of Variable Sets.
A data set containing two or more variables or variable sets that you want to combine. 
Only Nominal or Binary - Multi variable sets can be merged.
Method
1. Select the variables or variable set from the Data Sets tree that you want to merge.  Hold down your Ctrl key to select multiple variables. In this example, we'll merge two different nominal likelihood to recommend variables that were asked at different points in the survey for the same brand (Apple).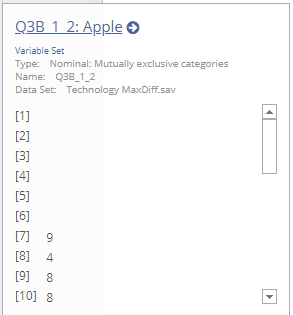 In reviewing the variable previews above by hovering over the variables in the Data Sets tree, we can see that each case has data in one of the two variables.
2. From the toolbar menu, select Combine > As Variable Set > Merge Variables. 
3. At the next prompt choose whether or not you want to hide the input variables. Select Yes if you no longer need to use the original variables and do not want them to appear in any of the variable drop-down lists. Otherwise, select No. A new merged variable is added to the Data Sets tree. 



4. OPTIONAL: To rename the new variable, right-click on the variable in the Data Sets tree and select Rename. 
Next
How to Merge/Combine Categories in Tables and Charts
How to Combine Multiple Categories into a New Category