Introduction
This article describes how to create a Goodness-of-Fit Regression Plot.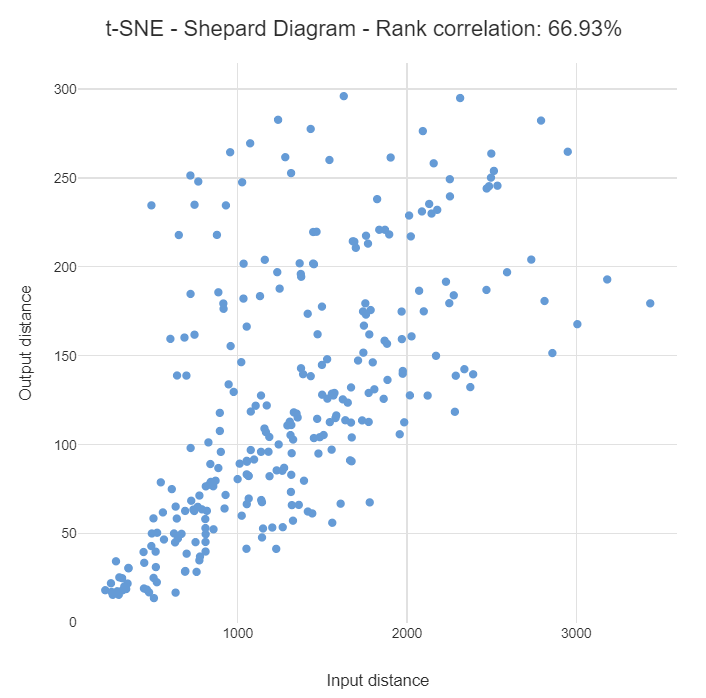 Requirements
An R Output containing a principal components, multidimensional scaling, or t-SNE analysis.
Method
Go to the Anything menu and select Advanced Analysis > Regression > Diagnostics > Goodness-of-Fit.
Go to the Inputs tab and select the appropriate model from the Dimension Reduction menu.
OPTIONAL: Input the maximum number of points to plot into the Maximum Points menu. If the object contains more data points, a random sample is taken.
See Also
Goodness of Fit in MDS and t-SNE with Shepard Diagrams
How to Run Binary Logit Regression
How to Run a Generalized Linear Model
How to Run a Multinomial Logit Regression
How to Run NBD Regression in Displayr
How to Run Ordered Logit Regression
How to Run Quasi-Poisson Regression
How to Run a Stepwise Regression
How to Create Regression Multicollinearity Table (VIF)
How to Create a Prediction-Accuracy Table
How to Test Residual Heteroscedasticity of Regression Models
How to Save Predicted Values of Regression Models
How to Save Fitted Values of Regression Models
How to Save Probabilities of Each Response of Regression Models
How to Test Residual Normality (Shapiro-Wilk) of Regression Models
How to Test Residual Serial Correlation (Durbin-Watson) of Regression Models
How to Save Residuals of Regression Models