Introduction
This article describes how to create a filter variable that includes cases with complete data (ie, no missing values), based on the variables selected.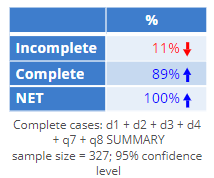 Requirements
A Displayr document with a data set.
Method
Select the data set in the data sets tree or select specific variable(s) that you would like to use in the filter.
Go to Anything > Data > Missing Data > Save Variable(s) > Filter for Complete Cases.
If the data set was selected in Step 1, you will be prompted to select the variable(s) to include in the filter. Once selected, click OK.
A new filter variable will appear in the data sets tree.