Preparing your report for publishing
In most regards, Displayr is set up so that What You See Is What You Get (WYSIWYG) when you export. However:
Objects in Displayr - pages, charts, text boxes, etc - can be hidden from export by selecting them and pressing Hide.
Sometimes there will be very small differences between how things appear on the screen and how they are exported. These differences will typically be very, very, small (e.g., a pixel). There are a couple of causes of this. First, your browser will automatically do some things differently to programs you export into (e.g., different rules about when to wrap text). Second, browsers use slightly different rules to other programs about when and how to draw things (e..g, if a line is 50% on one pixel and 50% on the other).
Exporting to Excel
To export to Excel:
Press Publish > Export Pages > Excel
Optionally, choose Advanced Options to control things like how many worksheets to export on, table styling, and whether to create a table of contents.
Press Export.
Exporting to PowerPoint
To export to PowerPoint:
If you wish to have a visualization appear in PowerPoint as an editable chart, select the chart and choose Properties > POWERPOINT EXPORT> Format > Microsoft Chart. Press Set as default to make the change to all visualizations in the document which have not been explicitly set. Click Reset to revert to the default settings. See the image below.
Press Publish > Export Pages > PowerPoint
Press Export.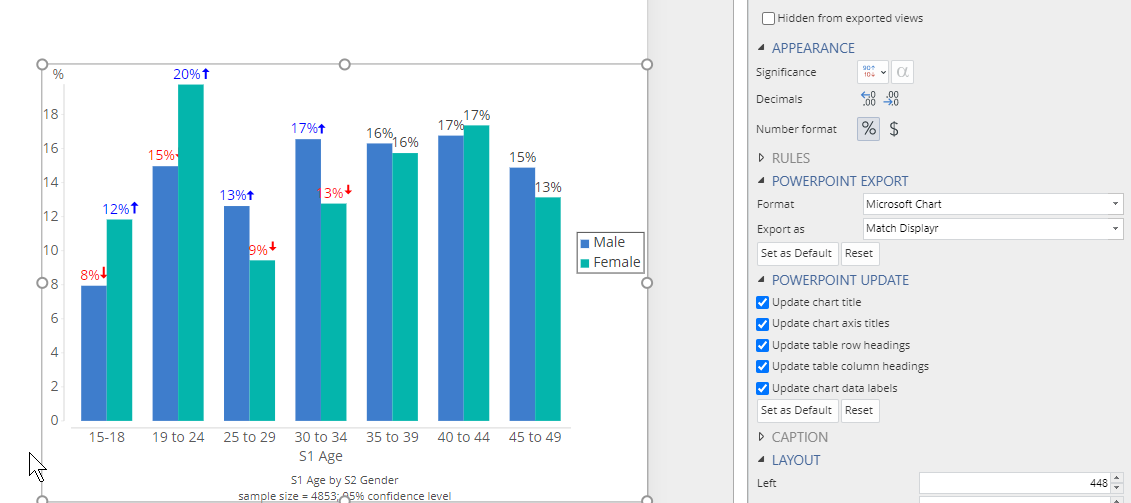 Export to PDF
To export to as an Adobe PDF file:
Press Publish > Export Pages > PDF
Press Export.
Export from View Mode
Instead of needing to export a lot of ad hoc pages, you can put the exporting in your client or viewer's hands by publishing the Document as a Web Page (dashboard). The same Excel, PowerPoint, and PDF exporting functionality is available from dashboards in View Mode as well.
Next