Introduction
This article describes how to go from a regression model that includes all respondents, including those who might be outliers: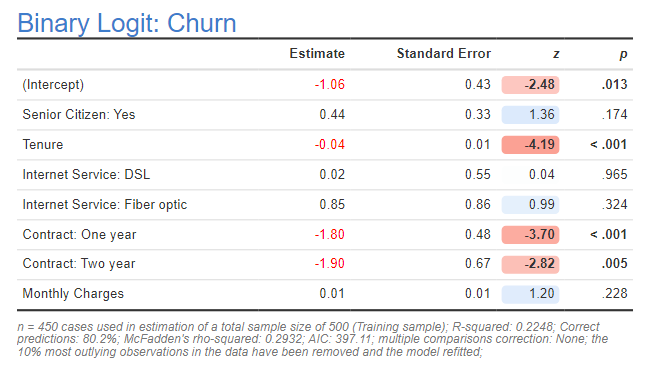 To a state where outliers are automatically removed from the model, thus affecting the key conclusions: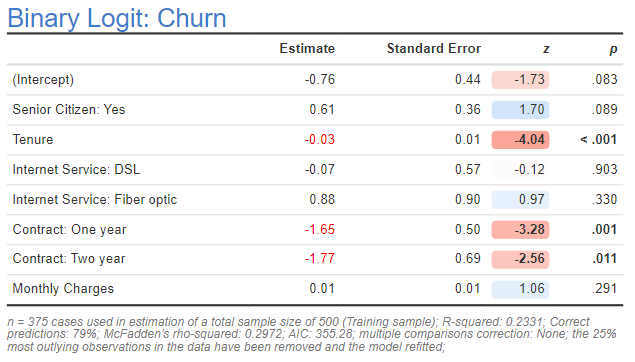 Requirements
You will need a linear regression, binary logit, ordered logit, or another generalized linear model (GLM) with a warning message about unusual observations detected:

Method
Select your model output on the page.
From the object inspector, go to Inputs and enter a number between 0-50 in the Automated outlier percentage field.
Click Calculate if the Automatic box is not already ticked.
You will need to make judgments, trading off the following:
The more observations you remove, the less the model represents the entire data set. So start by removing a small percentage (e.g., 1%).
Does the warning disappear? If you can remove, say, 10% of the observations and the warning disappears, that may be a good thing. But, it is possible that you always get warnings. It's important to appreciate that the warnings are designed to alert to situations where rogue observations are potentially causing a detectable change in conclusions. But, often this change can be so small to be trivial.
How much do the key conclusions change? If they change a lot, you need to consider inspecting the raw data and working out why the observations are rogue (i.e., is there a data integrity issue?).
See Also
How to Run Linear Regression in Displayr
How to Run Ordered Logit Regression