Introduction
Analysis of Variance (ANOVA) is a hypothesis testing procedure that tests whether two means are significantly different from each other. One-Way MANOVA tests the relationship between a set of numeric variables and a single categorical variable.
This article describes how to go create a One-Way MANOVA Table as shown below in which age is used as the predictor variable and attitudes towards different brands as outcomes - dependent variables.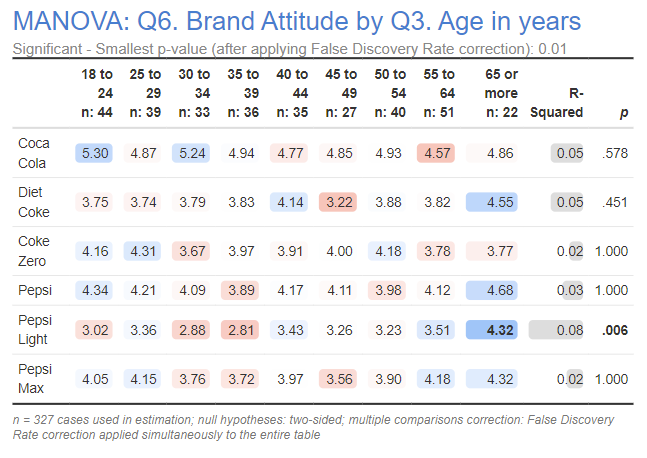 Requirements
A Categorical variable to use as an Outcome variable.
A Numeric, Date, Money, Categorical, or Ordered Categorical variable to use as a Predictor.
Method
In the Anything menu select Advanced Analysis > Analysis of Variance > One-Way MANOVA.
In the object inspector go to the Inputs tab.
In the Outcomes menu select the outcomes variables.
Select the predictor variable from the Predictor list.
OPTIONAL: To compute standard errors that are robust to violations of the assumption of constant variance (ie, heteroscedasticity) select Robust standard errors.

OPTIONAL: If the output returns an error due to missing data, go to the Missing Data menu and select Exclude Cases with Missing Data or select Use Partial Data.
OPTIONAL: Select Variable names to display Variable names in the output instead of labels.
OPTIONAL: Select Categorical as Binary to convert Categorical outcome variables to binary variables.
See Also
How to Create a One-Way ANOVA table
How to Create a Table of Means