This article describes how to create a table of parameter fits and their standard errors for a Choice Modeling - Experimental Design output.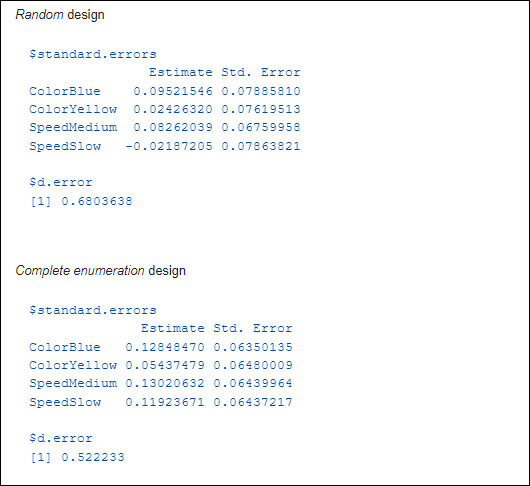 The values are generally compared between designs created by different algorithms for the same specification, rather than assessed on an individual basis.
For the examples above, the Random design has higher standard errors and d-error compared to the Complete enumeration design.
The parameter estimates from the logit model can general be ignored and are non-zero because of randomness.
Requirements
A Choice Model Experimental Design output
Method
Select the Experimental Design output
Select Anything > Advanced Analysis > Choice Modeling > Diagnostic > Experimental Design > Parameter Standard Errors of Design
As an alternative:
From the Choice Modeling Experimental Design dialog Object Inspector, select DIAGNOSTICS > Parameters Standard Errors of Design

Next
How to Create an Experimental Design for Choice-Based Conjoint