Introduction
This article describes how to take categorical questions containing a 'Don't know' or a similarly labeled category: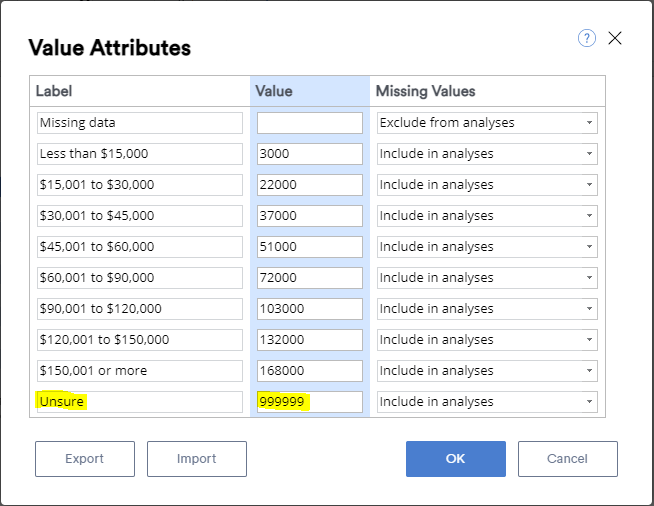 And change the underlying codes to NaN so that the values are not included in any mathematical calculations such as a sum or an averages, but are still included in percentage/frequency calculations.

Requirements
A data set containing one or more categorical variables that contains a 'Don't know' or a similarly labeled category that you want to excluded from calculations.
Method
1. From the toolbar menu, select Anything > Data > Variables > Modify > Recode > Set the Value of Don't Knows to NaN.
2. Click Yes only to add additional 'Don't know' response labels in addition to the ones listed on the pop-up dialogue box.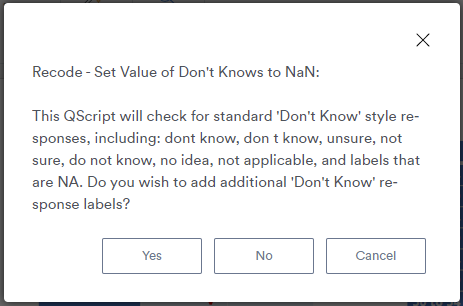 3. If Yes is selected in Step 2, enter all additional response labels one at a time and click OK after each one. Enter a blank and click OK when finished.



4. If you have multiple data sets in your project, you'll next be prompted to select the one containing the variables that you want to recode. Select a data set and click OK.
5. Questions with 'Don't know' categories or similar categories in the selected data set are displayed in a list. Select the questions that you want to recode from the list and click OK.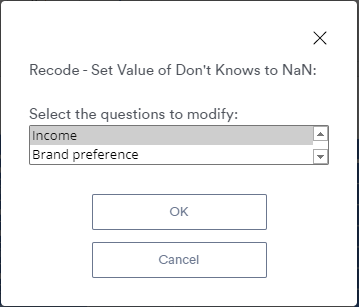 A new page is added to your document containing tables from the recoded questions.