Sometimes with scaled questions or numeric variables, you may want to bucket ranges or see a breakdown of proportion of people giving certain scores. This article describes how to go from a displaying averages for each variable in a table: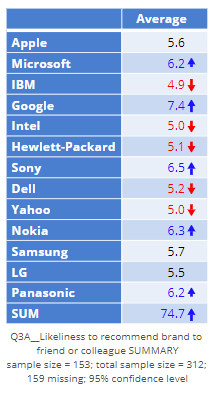 To a table displaying categories and percentages for each variable in the variable set: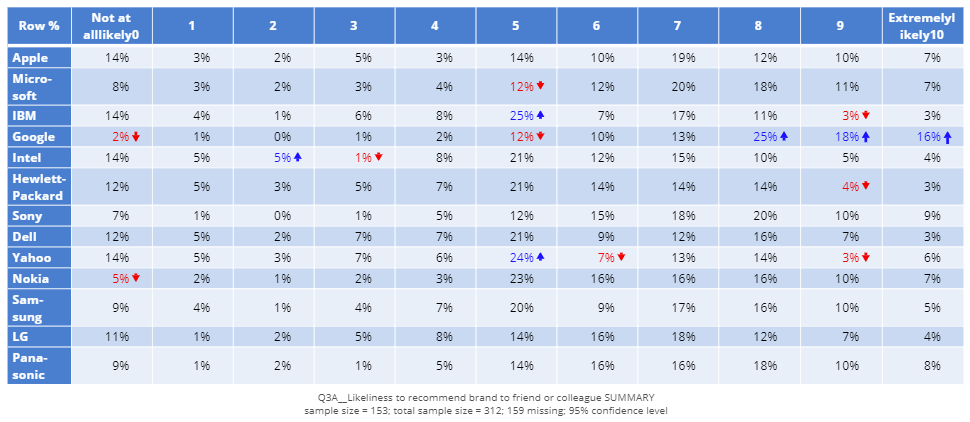 Requirements
Familiarity with the Structure and Value Attributes of Variable Sets.
A Numeric variable or Numeric - Multi variable set for which you want to display as categories and percentages for each numeric value.
Method - Automatic
1. Create a table from your variable or variable set by dragging it from the Data Sets tree onto the page.
2. Select the variable or variable set in the Data Sets tree.
3. From the toolbar menu, select Anything > Data > Variables > Modify > Restructure > Percentages.
Method - Manual
1. Select the variable set in the Data Sets tree.
2. [OPTIONAL]: Click Duplicate if wanting to preserve a copy of the variable set shown as averages.
3. In the object inspector on the right, change the Structure to the appropriate Nominal or Ordinal structure per Variable Sets.
Next
How to Change a Variable Set From Displaying Percentages to Averages
How to Change Percentages to an Average