Introduction
Analysis of Variance (ANOVA) is a hypothesis testing procedure that tests whether two means are significantly different from each other. One-Way ANOVA tests the relationship between a numeric variable and a categorical variable.
This article describes how to go create a One-Way ANOVA Table as shown below. The table below shows the pairwise comparison of Total Spend grouped by Household description.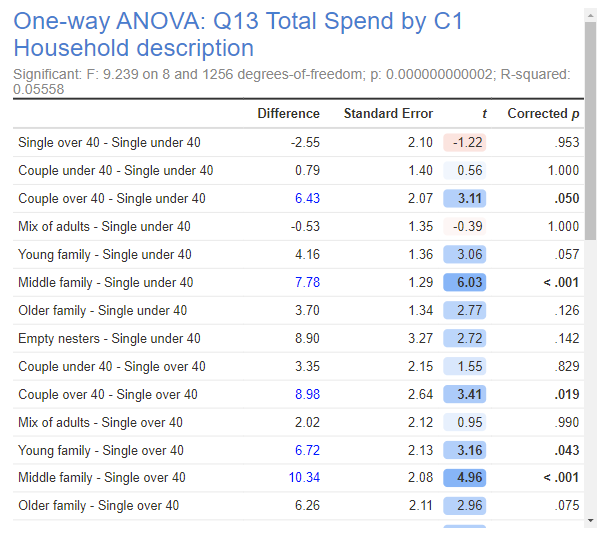 Requirements
A numeric variable to be used as a dependent variable.
A categorical variable to be used as a predictor.
Method
In the Anything menu select Advanced Analysis > Analysis of Variance > One-Way ANOVA.
In the object inspector go to the Inputs tab.
In the Output menu select the numeric variable to be predicted by the predictor variables.
Select the categorical predictor variable from the Predictor list.
In the Compare menu select the contrasts to be performed.

To mean The post hoc testing compares the mean of each category to the overall average (ie, the grand mean).
To first The post hoc testing compares the mean of each category to the mean of the first category.
Pairwise The post hoc testing compares the mean of each pair of categories.

OPTIONAL: Select multiple comparison Correction used when calculating p-values. Note: The Correction calculations take into account the settings in Compare. Tukey Range correction is used by default.
OPTIONAL: To compute standard errors that are robust to violations of the assumption of constant variance (ie, heteroscedasticity) select Robust standard errors.

OPTIONAL: Set the Alternative hypothesis to be used in computing the p-values in the post hoc tests. You can choose between Two sided (default), Greater or Less.
OPTIONAL: If the output returns an error due to missing data, go to the Missing Data menu and select Exclude Cases with Missing Data.
OPTIONAL: Select Variable names to display Variable names in the output instead of labels.
See Also
How to Create a One-Way MANOVA table