Introduction
This article describes how to go from a Latent Class Analysis, Hierarchical Bayes or Ensemble Choice Model output created in Displayr: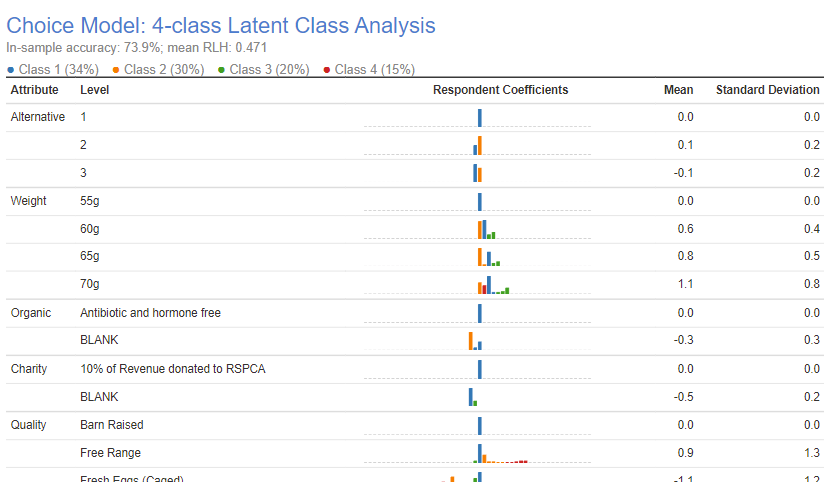 To a numeric variable set containing individual-level coefficients (respondent-level utilities) derived from the Choice Model for each attribute level:
Requirements
Method
1. Select the Choice Model output in your document.
2. From the toolbar menu, select Anything > Advanced Analysis > Choice Modeling > Save Variable(s) > Individual-Level Coefficients. (to save scaled utilities see How to Save Utilities from a Choice Model)
A new variable set is added to the Data Sets tree containing the individual-level coefficients for each each attribute level as shown in the raw data table below:


Note that individual-level coefficients are not able to be saved to variables for models with simulated data and models created using a CHO data file where respondent IDs were not specified.
See Also
How to Do Choice Modeling in Displayr
How to Create an Experimental Design for Conjoint Analysis
How to Set Up a Choice-Based Conjoint Analysis in Qualtrics
How to Preview a Choice Model Questionnaire
How to Compare Discrete Choice Models
How to Create a Choice Model Utilities Plot
How to Save Utilities from a Choice Model
How to Save Class Membership from a Choice Model
How to Create a Choice Model Simulator
How to Create a Choice Model Optimizer